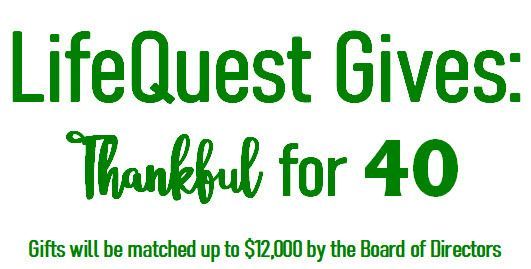 LifeQuest ~ Thankful for 40!
To celebrate our 40th birthday, this year we conducted several "Walk Down Memory Lane" videos reminiscing with past Executive Directors, Board Chairs, instructors, sponsors, congregations and many more.  
For forty years, you have supported our mission to enhance lifelong learning for our participants, instructors, and volunteers who give back to the community.  
To wrap up our celebration, plan to participate by giving a gift, matched by the Board, celebrating the past 40 years.  Your gift supports a healthy senior lifestyle of intellectual engagement, socialization, exercise, volunteer opportunities, and programs to decrease isolation and loneliness.  Gifts also provide technology support, how-to videos, and a library houses all recorded classes.  
For anyone who donates, your name will go into a drawing to win a one–year subscription to the Arkansas Democrat Gazette, iPad included. 
Please consider giving on Thursday, November 18, to support LifeQuest. Arkansas residents who donate during November will be included towards our goal and in the drawing.