Welcome to
LifeQuest of Arkansas
---
Adventures in Learning
Fall Term Begins Sept. 17; Online Registration begins Aug. 18
The AIL Curriculum Committee has, once again, developed a challenging and entertaining set of classes for your consideration.  History & Entertainment; Art & Exercise; Literature & Current Events; all to tweak your interest.  As usual, you may register online here, paying by credit card, or register via hard copy delivered to the LifeQuest office, paying by check.  Either way, we look forward to receiving your registration and to seeing you on Wednesday, September 17.
---
What's for Lunch?  Click here to see the Menu of  Fall Term Lunches!
Mark Your Calendars for the future.
* Winter Term '15 — Jan. 14 - March 5
* Spring Term '15 — April 1– May 21
* Summer Term '15 — July 8-July 30
---
LifeQuest of Arkansas, a 501(c)3 charitable organization, is a place for older active adults of central Arkansas to enjoy life-long learning and giving back to the community.
Have You Seen What Goes On at LifeQuest's Adventures in Learning?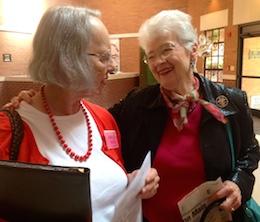 Shelly Wold & Janet Elwood - Two members of the AIL Curriculum Committee
Summer AIL takes on a decidedly cullinary "flavor" in offering "Cooking with Karol" as well as "Dinner with the Chef".
Founders' Day Auction Dinners Continue to Delight
Our Founders' Day Silent Auction conducted earlier this year provided several great party opportunities.  Recently, a Western BBQ for 10, purchased by Barbara and Howard Hawes, was provided by Steve and Ann Leek at their Pleasant Valley home.  The picture below, and others in our Photo Gallery, testify to the good time. good food and good fellowship.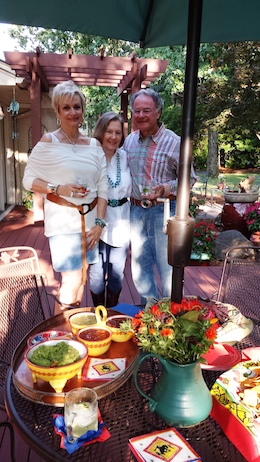 Emphasis on Cooking and Dining a Focus of Summer AIL's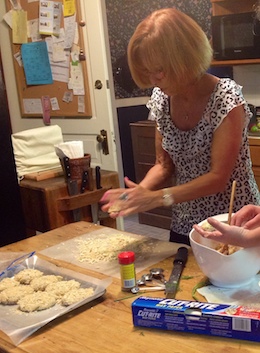 Check Out Summer 2014 Photos
Click Here for  other happenings at Summer AIL
Our Faithful Corporate Sponsors