---
Honorariums and Memorials
Honorariums Gifts made between Jan 16 – April 15                                            
In honor of                                  Donor                                                               
Bob Alexander                         Art Gillum                                                           
Barbara Baber                         Steve Raley
Suzanne Blair                           Bill Blair
Ozella Brummett                     Judy Brummett
Chuck Chappell                       John Shock
Sharum Dinning                      Bill Blair
                                                   Art Gillum
                                                   Buddy Rotenberry
Alan Eastham                           Art Gillum
Betty French                             Lucy Abraham
Bill Fulton                                 Marietta Kehler
Tom Herrin                               Marietta Kehler
Joy Jones                                   Marietta Kehler
LifeQuest Staff                         Bill Blair
LifeQuest Staff                        Leah Wilkinson
Mary Lee McHenry                 Lucy Abraham
David Miller                              John Shock
Joyce Peck                                Don & Dee Riggin
Fay Jean Royce                        Ron & Marsha Winters
Jan Shorey                                Hardy Winburn
Russell Thurmand                   Art Gillum
Fred Ursery                              Chuck Chappell
Dick Williams                           Dent Gitchel
                                                   John Shock
Ron Winters                             Art Gillum
Suzanne Yung                         Art Gillum
Memorials Gifts made between Jan 16 – April 15
In Memory of                                 Donor
Rodney Baker                                 Don & Dee Riggin
Margaret Garrett                            Ann Butler
Margaret Garrett                            Art Pfeiffer
Marie Harrell                                   Mary Lofton
T. F. Kenneth Harrison, Sr.            Dixie Harrison
Courtney C. Jackson                       Presley Jackson
Jeanne Kelley                                   John Meador
Fran Lancaster                                Ann Norwood
Turner Lloyd                                    Jim Deer
Walter Nunn                                    Jody Musgrove
Carolyn Oudin                                 Jim Deer
Louise W. Rogers                           Sarah Rians
---
LifeQuest Gives April 5th

...LifeQuest Gives raised          $34, 265!!!
We are grateful to everyone who gave so generously - and special thanks to Barbara Baber & Bob Fleming for challenging us with their matching gift.
 
Alone we can do so little, together we can do so much. 
- Helen Keller 
Thank you, LifeQuest!
---
Jonsson Foundation Grant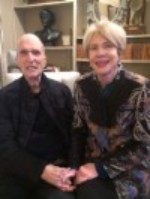 Philip and Diane Jonsson
LifeQuest would like to thank Diane and Philip Jonsson and The Philip R. Jonsson Foundation for their generous support of our organization in 2018.  A grant of $7,500 will help provide new audio  visual equipment, the shuttle service offered on Wednesdays, and various other operational needs.
LifeQuest relies on the generosity of donors like the Jonssons in order to provide continued quality programs for our members and instructors each year.  Thank you!
---
Mark Your Calendars:
Spring Term: April 4 - May 24, 2018
Summer Registration Opens:  June 4, 2018
Summer Term:  July 11 - August 2, 2018
Fall Registration Opens:  August 20, 2018
Fall Term:  September 19 - November 8, 2018
Winter Registration Opens:  December 10, 2018
---