Happy Thanksgiving from the staff at LifeQuest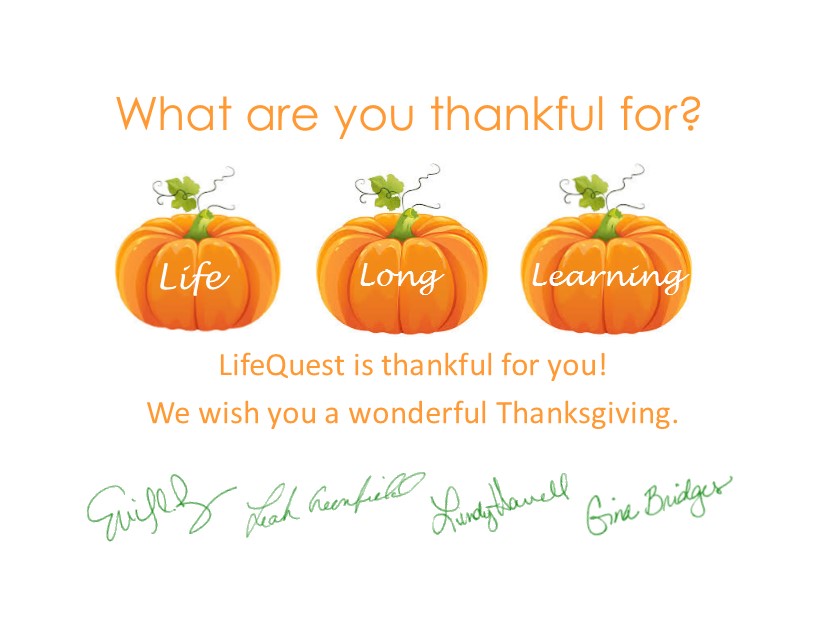 ---
The Artistic Side of Life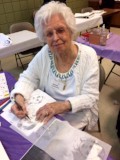 At LifeQuest, the belief that individuals can learn and grow throughout their lives is the educational philosophy at the heart of our mission. With pen, brush, yarn, pencil, paper and scissors, many LifeQuest members enjoy life-long learning through creative expression. Basic Drawing Instructor Bill Fulton has this to say about his experience:

"I have volunteered for lots of different organizations, but teaching at LifeQuest has been the most fulfilling activity I have done. Teaching folks my age, watching them succeed and in many cases, surpassing me in artistic talent warms my heart. LifeQuest attendees are truly life-long learners. Visit any class to see the energy within the room."

Creativity leads to learning, which in turn strengthens the mind and enables further creativity and learning - becoming a self-reinforcing process. It's also a lot of fun, and the social aspect can't be beat! Student Anne Parat agrees:

"Art classes at LifeQuest quite literally saved my sanity when I was the lone caregiver for my husband during his declining health. The chance to create art and the bond between the classmates sustained me through the rough patches of caregiving. To me, the emotional support is as much a part of LifeQuest as the intellectual stimulation."

LifeQuest's one-time registration fee of $65 per 8-week term covers all the classes you can fit into your schedule on Wednesdays and Thursdays. Explore your own creative side by enjoying one of the following creative classes this fall: Basic Drawing, Experienced Watercolor, Greeting Cards, Knitting & Sharing,
Acrylic/Oil Painting Instruction, Water Media, Watercolor for Beginners, and Zentangle.
                     
---
Mark Your Calendars:
Winter Registration Open:  December 11, 2017
Holiday Party: December 6, 2017 at 2:00 pm in the Youth Building
Winter Term: January 17 - March 8, 2018
---