---
LifeQuest Gives Day: April 4, 2019
On April 4, LifeQuest will host our second annual "LifeQuest Gives Day," an all-day giving event designed to promote a spirit of giving in support of our mission to provide lifelong learning.  From 8:00 a.m. until 5:00 p.m. on Thursday, April 4, on-line donations and donations made in person in the LifeQuest office will be matched dollar-for-dollar up to $12,000 by a challenge gift pledged by LifeQuest members Barbara Baber and Bob Fleming.  Please help us meet our match!
---
Dedicated Service Awards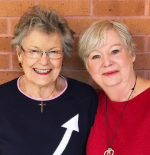 LifeQuest will honor volunteers, Marcie Smith and Ann West, with our Dedicated Service Award on Wednesday, April 10 during our lunch program at noon in the Great Hall.  Lunch tickets are $8 and may be purchased by calling the office at 225-6073.
---
With Gratitude
LifeQuest recently received two grants made possible by The Philip R. Jonsson Foundation and the Arkansas Community Health & Education Foundation.  Due to the generosity of these organizations, we were able to purchase a variety of much needed audio visual equipment, such as laptops, overhead projectors, a/v carts, and microphones as well as provide our shuttle service for another year.  Thank you!
---
Mark Your Calendars:
Spring Registration Opens:  Monday, March 4, 2019
Spain Information Meeting:  Tuesday, March 12, 2019, 1:00pm
New Member Orientation:  March 27, 2019, 9:30am
Spring Term:  April 3 - May 23, 2019
Summer Registation Opens:  Monday, June 3, 2019
Summer Term:  July 10 - August 1, 2019
---