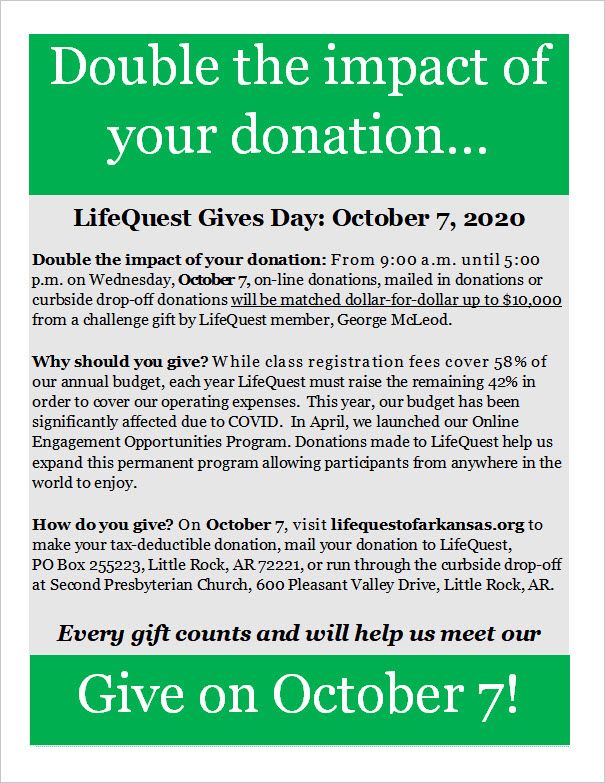 ---
Ways to Give
The year of 2020 will be remembered as a year of change and LifeQuest is no exception.  This spring, our brave instructors helped launch our Online Engagement Opportunities Program.  We are thankful for their ambitious drive to continue our mission of life-long learning, while providing quality educational programming that keeps adults mentally alert, physically active and connected to the world around them.  We believe that physical distancing is important during our current days, but not social distancing.  Your generous donation will help expand our online program making it accessible to everyone. Together, we can make a difference. If you wish to be a part in the growing opportunities offered, complete the form below to make your online gift today. Should you wish to make a donation by check, please mail your donation to: LifeQuest, P.O. Box 25523, Little Rock, AR 72221.
---
Make Your Online Donation Today
---
Donate by using your Kroger Card
DO YOU SHOP AT KROGER?  Have you signed up for their COMMUNITY REWARDS Program?  You can support LifeQuest of Arkansas when using your Kroger Plus (savings) card, and it's EASY to participate! 
Here is the procedure for registering:
Go online to www.krogercommunityrewards.com
At the bottom under Community, click Kroger Community Rewards
Have your Kroger Plus card handy.  (If you don't have a Kroger Plus card, you may get one at the customer service desk at any Kroger or obtain a Digital Plus Card online when you enroll.)
Click on "Sign In" if you already have an account or "Create an Account" if you are a new customer.
If you are a new online customer, sign up for a Kroger Rewards Account by entering your email address, creating a password, and selecting your preferred store.  Select LifeQuest of Arkansas (KE286) organization from list, and then click "Enroll.
If you already have an account, use your email address and password to proceed to the next step.
Edit your information if necessary.
If you use your phone number at the register, but don't know your Kroger Plus card number, call 800-576-4377, select option 3.
WHEN SHOPPING, you must swipe your registered Kroger Plus card or use the phone number related to your registered Kroger Plus card for your purchases to count toward the LifeQuest account.
 Click here to register your Kroger Card.
---
Amazon Smile
1. Visit smile.amazon.com
2. Sign in with your Amazon credentials
3. Choose a charitable organization to receive donations or search for the charity of your choice (Search for LifeQuest of Arkansas please!)
4. Select your charity. 

The AmazonSmile Foundation will donate 0.5% of the purchase price from your eligible AmazonSmile purchases. The purchase price is the amount paid for the item minus any rebates and excluding shipping & handling, gift-wrapping fees, taxes or service charges. 
Purchases eligible are marked "Eligible for AmazonSmile donation" on their product detail pages on smile.amazon.com. Recurring Subscribe & Save purchases and subscription renewals are not currently eligible. Donations are not made for products that are returned.